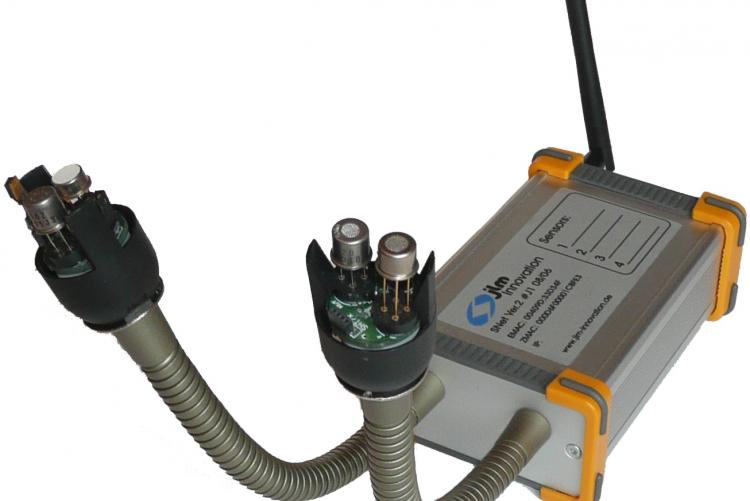 SNet sensor modules are a powerful platform for gas sensing with metal oxide sensors. They are especially suited to demanding R&D applications in safety & security, environmental monitoring, industrial control and robotics.
Connectivity and networking
Each module may communicate over various built in wireless and wired interfaces. A number of modules may be configured as sensor network and controlled via a single server program (SNet Telnet Server) running on a Windows PC.  This server can be easily accessed from common data acquisition and data analysis tools (e.g. LabView and Matlab).
Integrated interfaces:
10/100 MBit Ethernet port  (optionally WLAN 802.11b with WPA2)
Telegesis IEEE 802.15.4 wireless sensor network with mesh network stack
USB 1.1 interface (USB 2.0 compatible)
internal RS232 TTL 3.3V interface 
Advanced sensing
SNet sensor modules can be equipped with 4 metal oxide sensors and a humidity and temperature sensor. Heater voltages can be set for each sensor individually, allowing to combine a broad range of sensors from various manufacturers. The heater voltages may be modulated to generate additional information per sensor.
The sensor resistance is measured with a high precision 24bit ADC converter. Exchangeable load resistors allow to adjust the measurement to different sensor resistance ranges.
Compatible sensors are e.g. Figaro 26xx series, UST GGS series, AppliedSensor MLx series 
Powerful processing
A built in 32bit ARM7 micro controller allows to run advanced data processing algorithms directly onboard the sensor modules. Communication to Ethernet and wireless networks are handled via dedicated controllers, which frees the main processor from any communication overhead. 
SNet sensor modules may be directly controlled from MultiSens. MultiSens allows to control an arbitrary number of SNet sensor modules together with many other instruments to create complex setups for demanding applications. MultiSens offers fast interactive data analysis with various pattern recognition algorithms. 
Custom made to fit your needs
The SNet sensor platform can be tailored in many ways to fulfil the demands of your application. Adaptations may include firmware optimizations, integration of suitable processing algorithms, adaptation to specific sensors or integration with your measurement set-ups.
Please contact JLM Innovation with your requirements.